Code Redemption & Free Sampling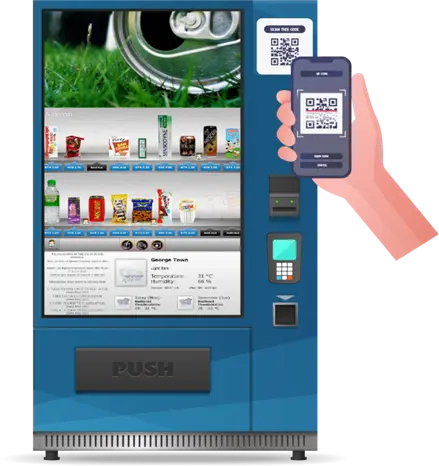 Traditional ways to redeem sample product / free gifts are normally done by filling out forms or by presenting a coupon and receipt to the counter in order to get the items. Nowadays, people are getting more environmentally cautious where most of the redemption activities are no longer done through papers.
With advancement in technology, it can be more environmentally friendly and automated, people no longer need to fill up forms or keep receipts to redeem free items over the counter. Organizers may collect their customer information through an online survey and release the redemption code / QR code in return through email so that the customer may redeem the free products from the vending machine any time at their convenience. The use of vending machines to release the free items has successfully reduced the manpower needed at the counter, and achieved contactless solutions.
---
When to use Code Redemption & Free Sampling on vending machine?
Big Scale Event
Big scale events such as Marathons that involve a large number of participants have always posed a challenge to the organizer when they need to distribute the T- shirt and goodies to the participants. In this case, event organizers would hire a part-timer or invite volunteers to help in distributing the items to the participants. This might cause a long process for the organiser in order to arrange and to sort out the long list of participants.
To avoid confusion and a messy situation during the event day, event organisers could apply a smart vending machine to help in dispensing the merchandise to the participants. This could help in shortening the process of distribution and reduce the resources needed. In addition, organizers could also make use of this solution to give out awards or medals to the targeted individuals.
Promotional Campaign - Giveaway
Coupons, vouchers, codes to redeem free items play an important role in business marketing as it often attracts customers from different markets to leave their details which helps your business to better understand your target audience and current market trend.
Merchants can set up an online survey or questionnaire to collect public information and feedback to their products or even set up a promotional campaign to invite the public to participate in order to get the free sample product redemption code or QR code and redeem it from the vending machine.
Unmanned Restaurant
An unmanned restaurant may be set up especially for a hotel, gym, office area or university which allows the user to collect ready eat meals based on online order or to dispense the free meals. By using the redemption features in a smart vending machine, the machine operator can better manage product quantity as they can prepare the meal based on the numbers of people registered online.
From the user perspective, they can redeem their meal without worrying about the restaurant business hours as they can redeem their meals any time based on their own preferences. It also helps to avoid a long queue like normal restaurants.
---
Why Code Redemption?

Provides accurate data
Dispense history and sales data may retrieved from cloud

Save cost
No manpower needed
Fast and Convenience
Operator can place vending machine anywhere at their convenience

Contactless
Prevent from direct interaction
---
How it works?
Step 1: Public register themselves through an online registration form on the website or fill up the online survey form.

Step 2: After registration is done / successfully filled up the survey, individuals will receive an email notification with the QR code or code number.

Step 3: Upon successful payment, the respective vending machines or lockers dispense for the customer to pick their item accordingly.
---
Please get in touch with us to know more how our smart vending and automated retail platform can assist you in your vending operations.