Unmanned Store & Automated Shop
Unmanned store can be implemented by combining and incorporating several different forms of vending machines, vending fridges, lockers, coffee vending machines, vending kiosks and automated retail equipments to offer more product choices and merchandise range.
Amidst the dire needs to reduce human-dependency and the social distancing for public health, unmanned store and automated shop are becoming increasingly important. 24/7 automated convenience store and automated restaurant are the future of the retail and hospitality industries.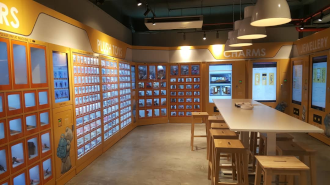 ---
Why Unmanned Store and Automated Shop?
Provides convenience, choices and efficiency for customers and operators.

Helps customers to shop faster and smarter.

Frees up human staffs and labor costs.

Solves the traditional retail pain points of heavy overhead costs in construction, renovations, and to improve operational efficiency.
---
How Unmanned Store and Automated Shop work?
Unmanned Stores and automated shops with smart vending offer a wide selection of products in a single point of sales. With Vendron® smart retail solution, everything is intuitive and easy.
Step 1: Customer makes selections from the touch screen on the interested item.

Step 2: Proceed by making one-time payment for the total prices of all the items selected. Various types of payment are available, either cash, cashless or mobile payments.

Step 3: Upon successful payment, the respective vending machines or lockers dispense for the customer to pick their item accordingly.
*Steps may vary subject to the respective store's design
---
Please get in touch with us to know more how our smart vending and automated retail solutions can assist you in your smart retail and self-service unmanned retail operations.