Smart Vending Machine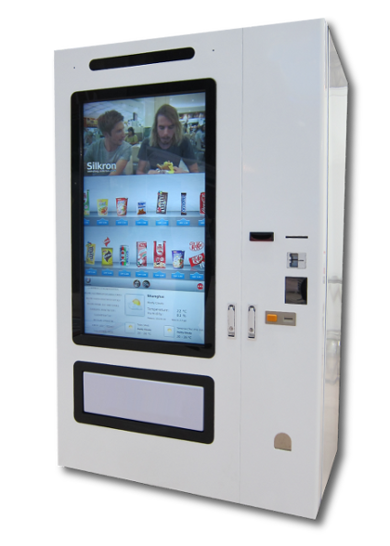 With the development in technological advancement in this era, vending machines has always been an option for Grab & Go which provides convenience and low-cost that makes more choices available in a vending machine. As smart vending machine is currently in the evolving stage, the machine now provides consumers with more interactive components such as touch-screen, gesture-based interaction, all modes of cashless payments, and etc.
The smart vending machine does not only sell drinks and snacks as in the conventional vending machines but in a more effective ways as it can display nutritional facts to the consumers which has been a compulsory regulatory requirements in many countries now. Smart vending machine can also sell unconventional products such as actually processes fresh juices and smoothies right in the machines to deliver the desired freshness to the consumers.
Other than selling on food and beverages, it can also sells other higher-value products like electronic gadgets, gifts and so on.
Moreover, smart vending machines can also provide value-added services to the consumers, such as utility bill payment, mobile top-up or reload and etc which leverage on the high traffic locations to increase additional revenue streams besides the sales of merchandises for the vending operators while providing extra convenience to the surrounding community.
Besides, smart vending machine allows multiple items purchase in a single transaction. This will increase the average per transaction values. Moreover, it also enables cross-selling by promoting some other relevant products to the consumer besides the current purchase.
---
Why Smart Vending Machine?
Smart vending machine supports multiple of payment methods that involves cash, cashless or mobile payment.
Smart vending machine empowers the consumers to stay more informed with additional information, such as displaying nutrition facts, product specifications and so on.
Smart vending machine performs real-time updates which is able to monitor sales, improve inventory tracking and control.
Smart vending machine synchronizes the latest updates from the operator to the machines, provides the content management for digital signage, interactive screen content and other content remotely and securely for any number of smart vending machines.
Smart vending machine owners/operators are able to generate additional revenue source by renting out the digital advertisement space for the advertisers as well as providing value-added services through its connectivity and versatility
---
How to make a purchase on Smart Vending machine?
Step 1: Choose on the item from the touch screen that you intended to purchase.

Step 2: Make payment either by cash, cashless or mobile payment – Scan QR or credit /debit cards.

Step 3: Once payment has been made, the item will then be dispensed.

Step 4: Collect your purchased product.
*the steps above may vary according to respective smart vending machines' user experience storyboard
---
---
You may find your right smart vending machines in our Vending Machine Marketplace.
Please get in touch with us to know more how our smart vending and automated retail platform can assist you in your vending machines and smart retail operations.