Vendron
®

Box 4

Being the 4th generation in its series, Silkron® Vendron Box 4 is a bundle of Vendron software optimized on embedded hardware, now even better specification in smaller size, to enable rapid and cost-effective implementation of smart vending capabilities onto vending machines, touch screen vending machines, smart vending fridges, smart locker cabinets, self-service food ordering kiosks and all different smart retail and automated retail machines and equipment.

Vendron® Box 4 can be easily configured with touch display, payment devices and other peripherals.
---
Technical Specification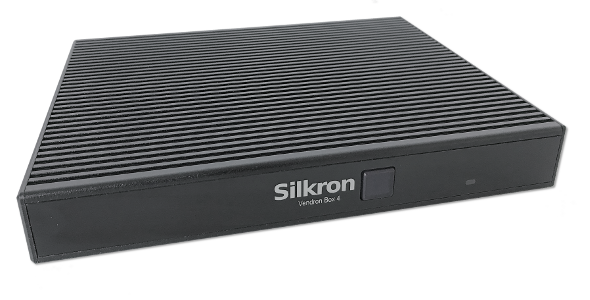 Smart Vending Software
Vendron® 4, on Windows 10 IoT Enterprise Entry 64-bit operating system, ready to connect to Vendron Cloud
CPU
Intel® Celeron® processor J1900 (Quad-core, 2.0GHz, up to 2.42GHz, 2M cache)
OR
Intel® Celeron® processor N3160 (Quad-core, 1.6GHz, up to 2.24GHz, 2M cache) [for J-variant]
Memory & Storage
DDR3 2GB & SSD 32GB
Graphics
Integrated Intel® HD Graphics, support Full HD 1080p
HDMI connector x 1
VGA connector x 1
Interfaces
USB 3.0 x 1 (or USB 3.0 x 3 for J-variant)
USB 2.0 x 5 (or USB 2.0 x 2 for J-variant)
LAN RJ45 x 3 (or LAN RJ45 x 2 for J-variant) - Gigabit Ethernet
COM port x 2 (RS-232)
Vending Data Interface
MDB
Support direct interface to vending machines of various OEM globally
EVA-DTS / DEX / UCS (via COM port)
Power Supply
DC +19V - Included AC Adaptor 100~240V, 3.42A (or 2.1A for J-variant)
Enclosure
Fanless Rugged Case
Dimension
190 x 150 x 29 mm (189.6mm x 148.3mm x 26mm for J-variant)
Application Uses
Typical smart vending
Cost-effective vending operations
Needs for future scalability and integration
Preference for Windows OS
---
Please get in touch with us to know more about our Vendron Box 4 and how it can assist you in your smart vending machine deployment.
Note:
Silkron reserves the right to make changes to the specifications without prior notice.
All pictures shown are for illustration purpose only. Actual product may vary due to different specification or product enhancement.
Intel, the Intel logo, the Intel Inside logo and Intel Celeron are trademarks of Intel Corporation in the United States and/or other countries.
Microsoft, Windows, and the Windows logo are trademarks, or registered trademarks of Microsoft Corporation in the United States and/or other countries.
*Other names and brands may be claimed as the property of others.