Industrial Vending Machine
Industrial segment too deserves smart industrial vending machines that would save productivity, time and cost and even lives by promoting occupational and environmental health and safety in the workplace, with a little bit of fun and lively interactivity. Industrial vending machines and industrial lockers dispense industrial spare parts and Personal Protective Equipment (PPE) effectively and efficiently with 24/7 availability to the users in need. It can reduce the part retrieval time and wastage of inventory while increasing the efficiency of inventory maintenance process and optimizing the stock level with full visibility into the consumption and trend.
In most cases, regardless of sector or industry, the most common areas of wastage in business is inventory wastage, especially on product-based businesses, inventory can be a massive waste. These might occur due to materials are not being used effectively or throwing out excess inventory that perishes or expires. As a pioneered in this industry, we have something that you are looking for in order to:
avoid critical stock-outs - Alert operator to restock in time
avoid overstock - As a result on analyzing the consumption trend
reduce total costs - As a result of controlling consumption and pay-per-use consignment
increase productivity - Can be access by workers 24/7, immediately available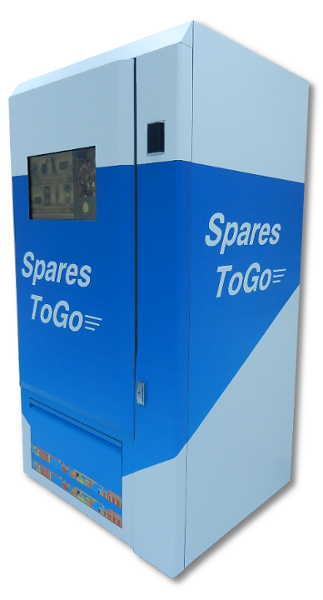 ---
Silkron's machine-agnostic software platform has already supported and run on various models of vending machines, hardware and equipments by many vending machines OEM globally. The industries and factories can have the freedom of choice to find the industrial vending machines that fit their desired requirements for their operations, types of materials to dispense, budget, quality expectation and so on, to implement the following functionalities:
Dispense Control Configuration
Employee Control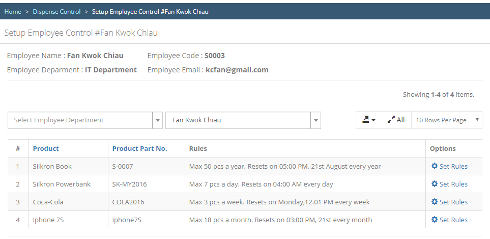 General Industry Reporting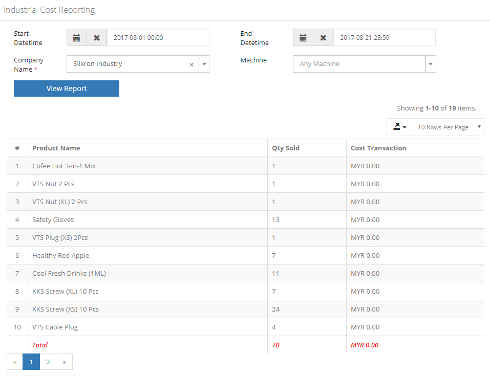 Employee Dispense History Log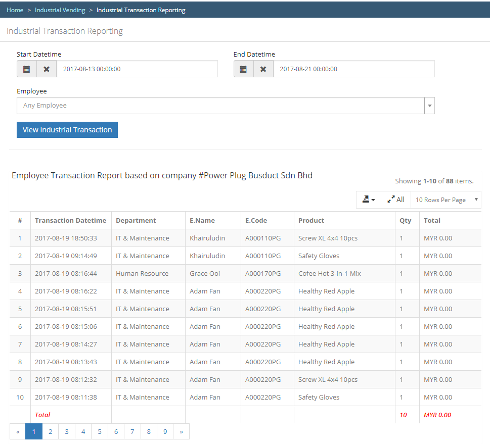 ---
Intuitive touch-based multimedia interactivity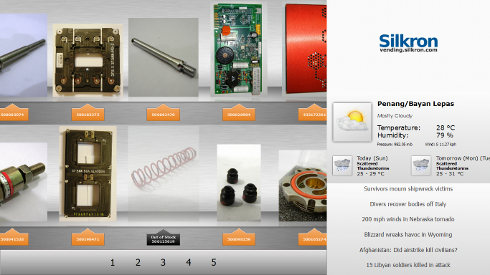 Part Information can be shown to requester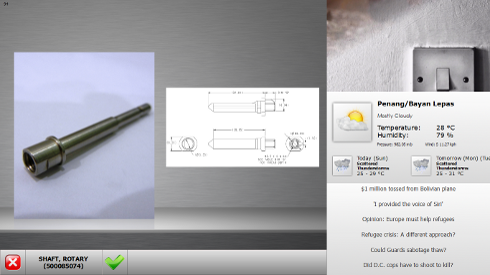 Tracking of details of the part check-out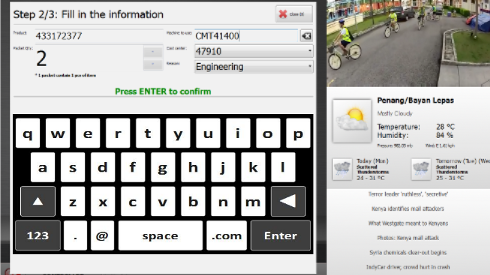 Employee badge for Verification and Traceability
---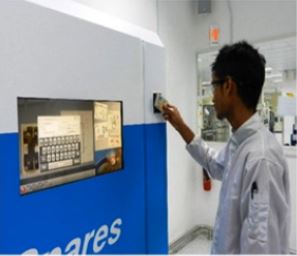 1 - Scan Badge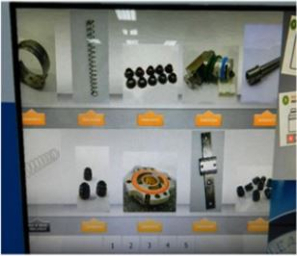 2 - View Part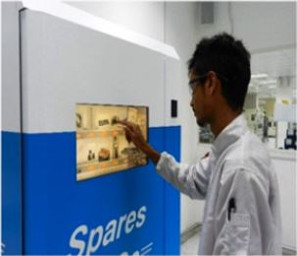 3 - Select a Part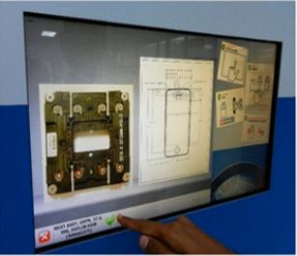 4 - Confirm a Part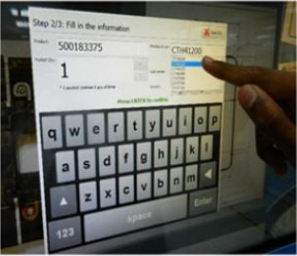 5 - Fill in Details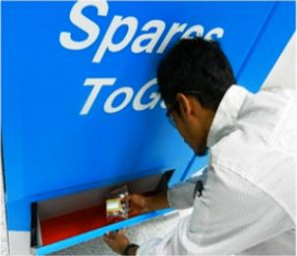 6 - Collect Part
Smart Industrial Vending
Silkron's smart industrial vending platform enables various types of inventory management solutions:
Industrial Vending Machines
Smart Shelf for Consumables
With this robust system of actively tracking and capturing the parts usage by the employees, all the supplies can be "self-served" by employees, thus the company shall be no longer afraid of the wrong item falls to the wrong person, with control and monitoring on consumption.
With the help of applied accountability factor and auditable tools via Vendron Cloud, the company is able to trace where were the items being used while still supplying with the right parts Just In Time (JIT). With Vendron smart vending technology, the company can also implement the consignment and pay-per-use concept on the items and parts, where the items are only being billed and paid for after they were dispensed from the industrial vending machines.
From now on, your company can practice :
" Giving the right items with the right quantity to the right people"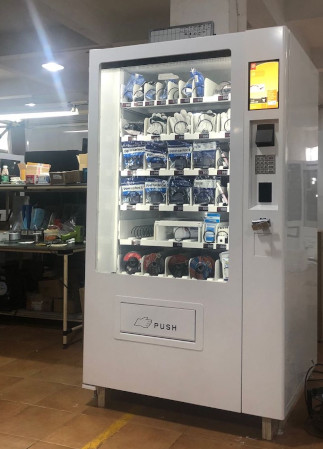 Smart Shelf for Consumables
Aside from using industrial vending machines or industrial lockers to dispense/control stock, nowadays RFID technology also been widely used in inventory management. RFID application have been in used in different way, one of the general use of RFID technology play in role is inventory control, to detect physical entity like object, location and etc.
RFID technology provides a highly versatile way to control and track stock. Some companies and factories have been using RFID technology along with Vendron to overcome out of stock problems, allow the inventory control team to refill the necessary parts or essential equipment just in time.
RFID Bins
Set up a Smart Shelf for Consumables powered by Vendron system, with each bin attached an RFID tag.
When the consumable parts of any bin finished, the last user just needs to move the empty bins to the designated level on the shelf.
Inventory control team will received alert on which product and quantity required to stock up from Vendron Cloud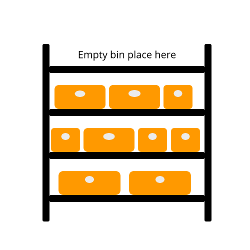 Smart Shelf with RFID bins filled with consumable parts
Move up empty bins when consumable parts finished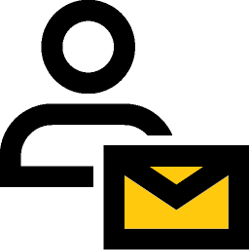 Restocker or Supplier receives alert from Vendron to perform restock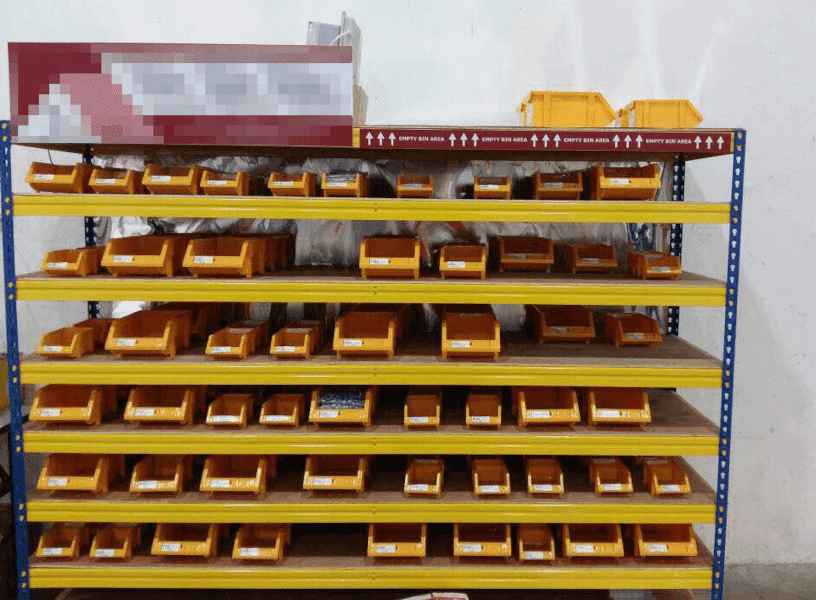 ---
Please get in touch with us to know more about our Vendron smart industrial vending solutions.
You may find your right industrial vending machines in our Vending Machine Marketplace.