Advertising, Marketing & Promotion
In this new era, Smart Vending Machine does not only work solely for the vending machine operators to gain profits by selling the items in the vending machine. Due to normally being deployed in the high-traffic locations, the smart vending machine has been also an effective channel to have advertising, marketing and promotional campaigns to meet the goals of various marketing strategies and the ever-rising demands of the consumer brands for brand engagement with their consumers.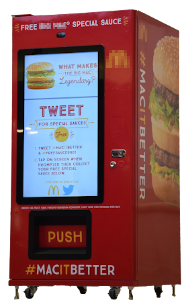 ---
How does Marketing & Promotion take place in Smart Vending Machines?
Digital signage are available for advertising purposes as well as direct marketing through the digital screen on the smart vending machine, in the forms of videos, slideshows, digital posters and even interactive contents. The vending machine body is also a valuable real estate for advertisements via stickers and decorations.

Vending operators and the brand owners can drive excitement to their consumers using sweepstakes, contests, promo codes, discounts, specials, loyalty rewards and more that are now possible on smart vending machines running capable and comprehensive smart vending software platform. The brands can also conduct consumer product sampling or free trial product campaign using smart vending machines, dispensing complimentary products individually or bundled as part of the product combo package sold in the vending machines, for potential consumers in high footfall locations, along with some other interactions with the consumers as described below.

In marketing newly launched product or introduction of new product line, as part of the brand engagement strategies, brand owners and vending operators commonly conduct marketing program in the form of interactive games whereby attracting consumers to participate in it and after the game, a product will be dispensed as an appreciation gift.

We have brand owners conducting consumer questionnaire surveys on the smart vending machines, where the users will get free gift dispensed by the vending machines after participating in the survey. Subsequently, the brands can collect consumer feedback and market trend while engaging the brand with their customers.

Brand owners and vending operators are able to communicate with their customers via periodic newsletters and Vendron Go mobile app from a central database via our Vendron Cloud. This keeps the consumers updated and connected to the latest news and promotions from the brands and retailers.

The brands and retailers can allow their consumers to interact with their social medias channels directly from the social vending machines, such as LIKES, posting photos taken from the machines, tweets, etc which will leverage the social impact and viral effects initiated by the users to their social networks creating further fans to the brands.
---
How can Brands and Operators benefit?
To build sales, market share, brand awareness and brand engagement. These programs will increase sales immediately and and also as part of the long-term marketing strategies.
To keep effective communications and interactions with the consumers out-of-home and bring the brand's and retailer's products to the top of their customers' minds.
To conduct effective product sampling campaigns automatically without hefty labor costs.
To enable consumer product marketers to reach consumers in high traffic locations as well as to tailor marketing and promotion campaigns based on locations and demographics.
---
---
Please get in touch with us to know more how our smart vending and automated retail solutions can assist you in your vending advertising and retail marketing.
---
Trademark Disclaimer: Silkron is not directly affiliated with, nor representative of any of the listed third-party companies or trademarks above. All products and company names are the registered trademarks of their original owners. The use of any trade name or trademark is for identification and reference purposes only and does not imply any association with the trademark holder of their product brand.