Smart Vending Cloud - Vendron Cloud
Vendron Cloud is a cloud-based smart vending management service that can be accessed from anywhere on any compatible device including PC, smartphones, tablets, and so on to remotely manage and monitor your clusters of smart vending machines, smart lockers, smart coffee vending machines, smart vending fridges and self-service food ordering payment kiosks in disperse locations.
Vendron Cloud provides real-time visibility and helps the operator to take control of the smart retail businesses at any time and anywhere.
Real-time Operational Data
Gain a detailed look into your daily operation, monitor the machines, reduce downtime, track every sale, and see live inventory level in the vending machines.



Centralized Management
Manage and organize product details and pricing remotely, manage Just-In-Time (JIT) inventory, sync latest ads to smart vending machines seamlessly, replenish and service the vending machines efficiently and accurately.


Warehouse and Stock Management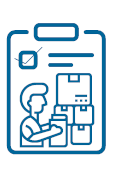 Detailed Analytics
Different types of reports for operator to analyze vending data, increase the effectiveness in product merchandising. Give operator a clear understanding of the overall performance and profitability of your business throughout the year.



Sales and Analysis Report
Value-added Services
Rich set of ready-to-use value-added services as well as others that are highly scalable and customizable to operator needs.

Employee and Dispense Control