Smart Vending Locker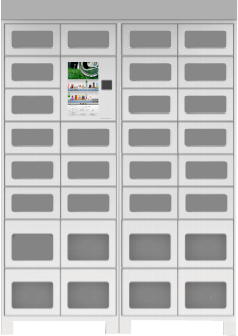 Aside from vending machines, locker cabinet usage has also been tremendously increasing, especially during COVID-19 pandemic. Smart Vending Lockers are usually being used to dispense larger and heavier size of items, fragile products that need extra handling care which requires lesser movements to keep the products in original state, or perhaps bundled product packages, etc. Usually lockers cabinets are available in different sizes, meaning it can be based on operators' products to fit into the locker chambers of cabinets.
Some of the factories and offices use smart lockers to control the dispense of larger Personal Protective Equipment (PPE) besides industrial vending machines along with our controlled dispense vending solutions. From a retail perspective, the retailers can bundle a better package with multiple items along as a combo into the locker. With transparent doors, it allows a clear viewing of the products by the consumers before they make a purchase from the machine.
With the latest technology, food vending lockers are installed with temperature controllers, alongside with warmers and UV sanitizing technology, which help to deliver the ready-to-eat meals better while the food stays warm and hygienic when the consumer picks it up. With food lockers, the meals can be dispensed in a perfect state without toppling over. For vending fresh groceries using smart lockers with cold storage temperature, it also expedited the groceries availability to the consumers while keeping the groceries fresh and hygienic within the proximity of the residential community area.
In our new norm of practice, people tend to shop online in order to reduce contact with people outside their household which then contributes to the growing numbers of ordering online. It has now become a trend where buyers buy online and collect the products from the nearest vending lockers by scanning QR for verification purposes in this online-to-offline (O2O) shopping experience. Meanwhile, online orders and parcels delivered by the couriers can be also sent to the nearest pick-up locker cabinets serving as the desired contactless and round-the-clock pickup point by the buyers.
Smart Locker Cabinet provides the following benefits:
Contactless purchase on mobile and collect later at vending lockers
Hygienic with UV sanitizing
Fresh groceries stay cold and fresh while warm meals stay warm with respective temperature control
Flexibility of selling various products in different sizes
As a contactless medium for delivering and receiving parcels
Delivery agents and couriers save time without needing to wait for the buyer to hand over the parcels
Buyer can pick up at any time at their own convenience
---
---
You may find your right smart vending lockers in our Vending Machine Marketplace.
Please get in touch with us to know more how Smart Vending Locker solutions can assist you in your smart retail and industrial vending operations.