Vendron Operator Mobile App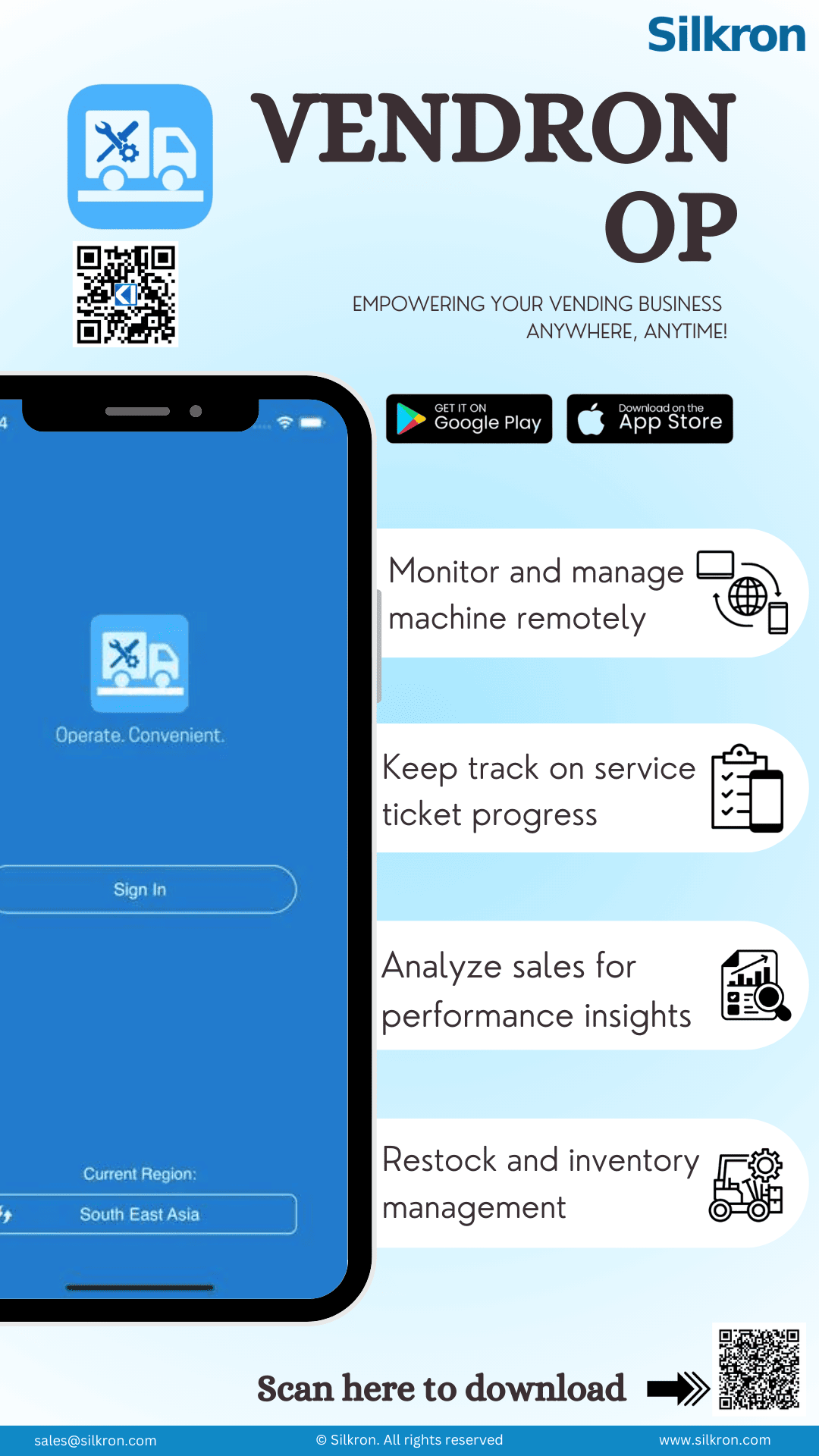 Vendron Op mobile app delivers vending operation management experience on mobile devices on the go. Vendron Op enables access and key real-time information such as inventory levels, active sales data, device condition, and other monitoring data on vending machines and automated retail equipment powered by the Vendron platform, wherever they are. The Vendron Op offers the operator efficiency and productivity at their convenience.
A simple condition check of the vending machine and smart fridge is made possible by Vendron Op. Anytime you have your phone with you, you can check the details of the vending machine and smart fridge.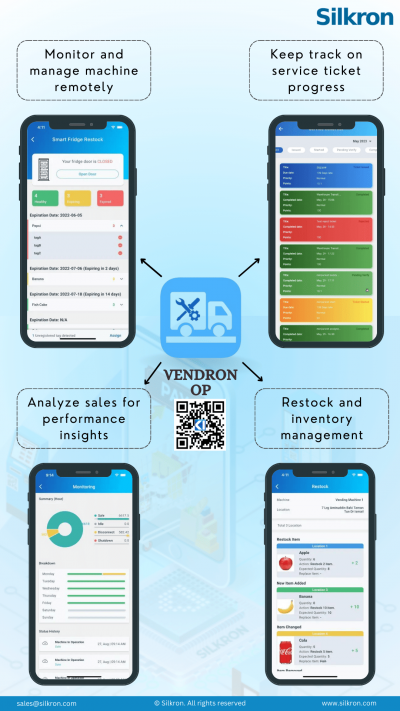 As an illustration, the Vendron Op system will show the license type for the Silkron software, the license's subscription end date, the number of subscription days still left, the real-time location of the machine, and the status of the specific machine.
The operator can control the remote operation anytime and anywhere easily. Multiple choices of remote operation for the operator such as lockdown vendron, restart, shutdown PC, and restart PC.
The vending machine and smart fridge can be monitored over by the operator using the Vendron Op. The vending machine's working, breakdown, shutdown, and disconnection details will be displayed.
The operator can follow the live sales and profit data using the Vendron Op. It also will show the sales ranking of each product clearly.
Additionally, it shows every product sold on a pie chart and allows for machine status monitoring at any time and place.
The operator can simply track the inventory level and see which items have been altered, added, or refilled by scanning the QR code located inside the vending machine and smart fridge.
There is a new feature to allow you to create the pre-kitting list using the Vendron Op. This feature allows user to restock their machine without having to manually key in the restock information into the machine, which is also known as Cloud Restocking. The data will automatically update to the machine once the restocking process is completed.
If the machine doesn't have sales for 24 hours (for example), the machine is in failure / down and will send notifications to Vendron Op.
Whenever the customer is facing an issue with their purchase such as the product failing to dispense after they have made the payment, they can click on the Help Ticket button to report the issue to the operator.
Accessible, User-friendly, Efficient
Tags: